VILLAGE OF LE VIEIL
PICTURE POSTCARD PRETTY
Past the center of Noirmoutier-en-l'Île, far from the hustle and bustle, you will come across a series of hamlets: La Claire, Le Vieil, La Madeleine and then, after Notre-Dame de la Blanche Abbey, La Linière. Everywhere are small white houses with blue shutters facing the south to expose their gardens to the sun and fill the air with the scents of their seasonal flowers. Take advantage of the calm village of Le Vieil to enjoy a peaceful walk through its narrow streets lined with charming fishermen's houses.
A CHARMING VILLAGE
Small streets lined with low stone walls and lovely family homes on the sand: a postcard-worthy snapshot of Le Vieil. People mostly get around by bicycle or on foot, passing from street to street, almost all of them leading to the beach!
In the springtime, the hollyhock inserts itself into the slightest chink where it blooms and adds colour to the white houses over several weeks. Evidence of the protective measures taken against the sea, dry stone spurs dot the beaches from Mardi Gras to La Madeleine, names that speak volumes about how sweet it is to live here!
Le Vieil is a peaceful village, barely unsettled by the summer crowds. Set back from the coast, immense agricultural plains connect Noirmoutier, Le Vieil and L'Herbaudière. This is where Noirmoutier's famous potato grows, offering up its full flavour in the early days of spring.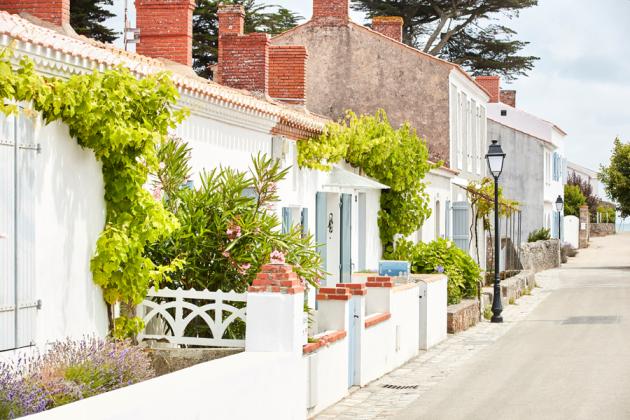 Le Vieil - Alexandre Lamoureux
DID YOU KNOW?
Can you believe this is where the first French submarine was presented to the French government in 1832? Brutus Villeroy, then a schoolteacher in Noirmoutier, invited government authorities for a test run of his bathyscaphe, with himself on board, facing the Plage du Mardi Gras beach. A 20-minute dive marked the success of the trial, although his invention met with only a faint response, so that he would eventually grow weary of waiting and decide to sell his patent to the United States. All that remains of this episode is the inventor's name on a very pretty street in Le Vieil.
Another key happening in Le Vieil was the filming of a scene from César and Rosalie on the Plage du Mardi Gras in 1972, featuring Romy Schneider and Yves Montand, surrounded by Samy Frey and Isabelle Huppert.
GUIDED TOUR
"Le Vieil, a Typical Noirmoutier Village": Local guides share 90 minutes of history and discovery with you.
Contacts :
Anne-Marie
06 88 46 32 75
SEE ALL GUIDED TOURS

Balade au Vieil - Jean-Sébastien Evrard
LE VIEIL AS SEEN BY PHILBERT DUPONT, RETIRED ARCHITECT
"I've been living on the island since... 1740! That's when my family moved here. I worked with my father and grandfather, who were small business owners, before becoming an architect. I used the traditional 17th and 18th century homes as references for the houses I built over my 40-year career. What's my favourite place on the island? With a doubt, it's the hamlet of Le Vieil. The plots of land there are small, the buildings are modest, and the seaside houses are an integrated part of the village."
HIKING SUGGESTIONS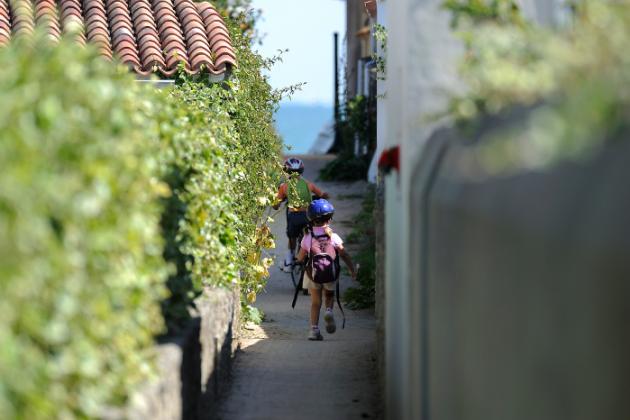 LE VIEIL BY BICYCLE – THE RUE BRUTUS-VILLEROI DIVE
A forgotten figure from history, this teacher from Nantes made his "fish boat" dive into the water facing the Plage de la Clère beach, between the Bois de la Chaise wood and Le Vieil, in 1832. Although the 20-minute submersion was a success, our inventor was unable to convince the military authorities of the interest of his bathyscaphe. And yet, a few years later, his work would go on to influence, a certain Jules Verne...
The people of Noirmoutier decided to honour the scientist who allowed them to dream by naming a street in Le Vieil after him: a picturesque alleyway running down to the Plage du Mardi Gras beach, where cars never bother cyclists because it never gets wider than 1 metre!
LE VIEIL ON FOOT
Whatever the season, you will enjoy walking along the foreshore to discover, one by one, the lovely holiday homes that share the beach with fishermen's houses. All terraces face the sea, so you will have front row seats to the show all year round!
VILLAGE OF LE VIEIL IN PICTURES