Come to Noirmoutier Island
By coach
DEPARTING FROM NANTES
Departing from the Nantes Train Station, connecting with high-speed trains in Nantes and boats to Île d'Yeu, coaches on the regional Line 13 stop year round at: Fromentine Coach Station (80 minutes); and the towns of Noirmoutier Island: Barbâtre, La Guérinière and Noirmoutier-en-l'Île Coach Station (1¾ hours). Up to 25 coaches make the trip daily in the summer.
Free services:
Designated wheelchair spaces**
Bicycle rack**
WiFi access
Press available during the trip in paper and digital formats
Real-time coach locations by smartphone (Zenbus app)
 
** Free service, call +33 (0)9 70 82 13 92 to make arrangements, before 5 pm the day before for a departure Tuesday to Saturday and before 5 pm Friday for a departure Sunday or Monday.
SNCF pricing: Group rates and SNCF and regional discount cards (Tiva, Fifti, Forfait Tribu, etc.) accepted.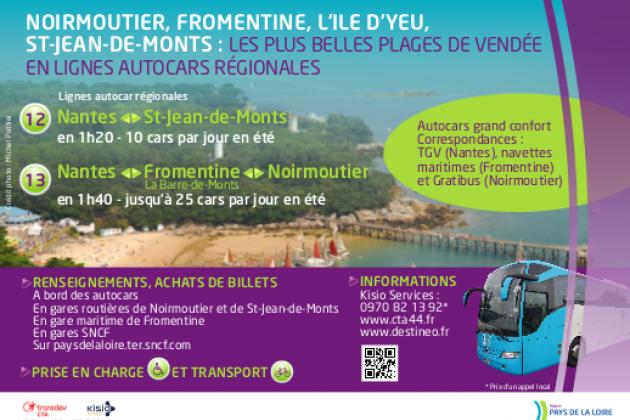 Line 13 Nantes-Noirmoutier coaches

Information and tickets: On board the coach (by cash or by check), at Noirmoutier Coach Station, at Fromentine Marine Terminal (CTA counter), at any SNCF train station and on www.voyages-sncf.com
More information is available at www.cta44.fr.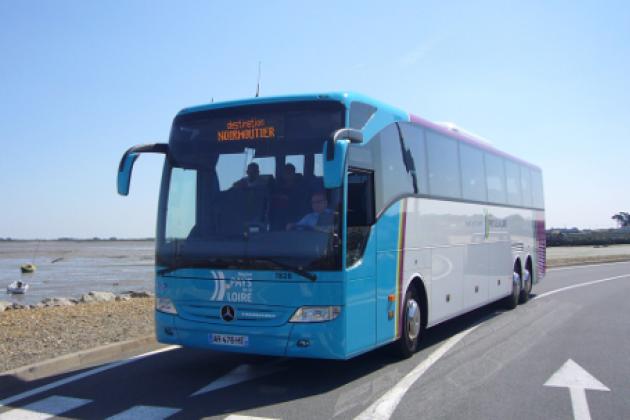 DEPARTING FROM LA ROCHE-SUR-YON
Departing from La Roche-sur-Yon and passing through Challans, coaches on Line 171 stop daily at all the towns of Noirmoutier Island:
Barbâtre;
La Guérinière;
L'Épine; and
Noirmoutier-en-l'Île.
Coach timetables and information are available at: www.sovetours.com