Accessibility on Noirmoutier Island
AN ISLAND FOR EVERYONE!
In recent years, much work has been done to make the island accessible by everyone. The island's four towns have launched an accessibility plan for their town centres, and the Noirmoutier Tourist Information Office is also involved in the project. Find all the information about accessible accommodation, restaurants and activities.
DISCOVER ESTABLISHMENTS WITH THE NATIONAL TOURISM & DISABILITY LABEL
The State-issued "Tourisme & Handicap" label identifies tourist facilities and attractions that are accessible to people with motor or intellectual disabilities or visual or hearing impairment. There are several establishments on the island that have earned the national label. Other establishments on Noirmoutier Island also have perfectly accessible premises, although they have not received the label. For a list of these, download the document about accessible sites (activities, lodging and restaurants) and inquire at the Tourist Information Office for more information.
For  more informations, contact us on +33 (0) 2 51 39 80 71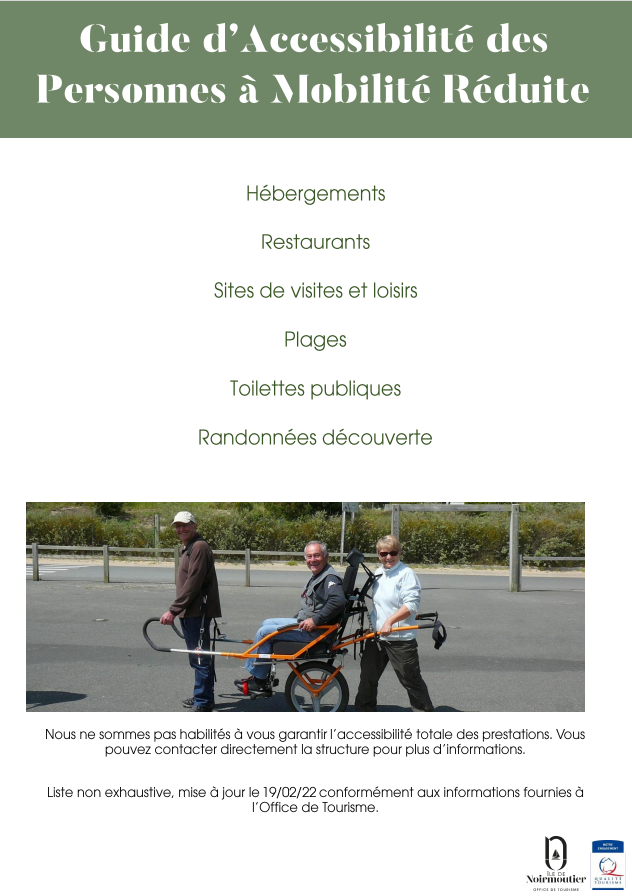 Tiralo plage des Sableaux à Noirmoutier
ENJOY THE ISLAND'S BEACHES WITH A TIRALO
The Tiralo is a floating wheelchair that can be manoeuvred by a caregiver on the beach and in the water. By following some basic safety guidelines, the assisted passenger can enjoy the delights of a day at the beach and a dip in the ocean, comfortably seated and submerged up to the waist!
Plage de l'Océan in Barbâtre: 1 Tiralo – Reservations at Barbâtre Town Hall – +33 (0)2 51 39 68 58
Plage de la Court in La Guérinière: 2 Tiralos – Reservations at the Museum of Island Traditions in La Guérinière – +33 (0)2 51 39 41 39 Access and slipway off Rue de la Marine.
Plage Saint-Jean, Plage du Devin & Plage de l'Océan in l'Épine: 1 Tiralo – Reservations and Morin Port Harbourmaster's Office – +33 (0)2 51 35 81 26
Plage des Sableaux in Noirmoutier-en-l'Île: 1 Tiralo – In season available to beachgoers from the first aid station, monitored by lifeguards during on-duty hours (1:30 pm to 7 pm, 1 July to 31 August) – +33 (0)2 51 54 45 10
Plage du Mardi Gras in Le Vieil: 1 Hippocampe (all-terrain wheelchair used only to go in the water but which does not float) – Available to the public from the Plage du Vieil Beach Club during its opening hours (Monday to Saturday noon, 9:30 am to 12 am / 3 pm to 6 pm, subject to change depending on the tides) – +33 (0)6 22 25 44 73
Plage de la Pointe in L'Herbaudière: Decking installed providing access to the beach

L'île de Noirmoutier en joëlette
ROAM ALONG THE ISLAND'S HIKING TRAILS IN A JOELETTE
Going all round Noirmoutier Island is a joy that is accessible to all thanks to the free provision of Joelettes.
The all-terrain wheelchairs allow people with disabilities to travel all the island's foot trails for free, accompanied by a trained caregiver or simply with family or friends.
Joelettes are only loaned out to people in need. They require at least two helpers.
To see which of Noirmoutier Island's routes are accessible by Joelette, view or download the guide, "See the Island from a Joelette".
JOELETTE RESERVATION INFORMATION:
To borrow a Joelette on your own, contact:
Grandir Ensemble Noirmoutier – +33 (0)6 37 95 72 26
To borrow a Joelette with a guide, contact:
"Association sportive et culturelle de la Guérinière (ASCG), Ms Blandin Monique (+33 (0)6 30 12 86 17 or mamiemonique85@gmail.com ou Mr. Atlé Guy (+33 (0) 6 19 41 68 77 or by email guy.atle@gmail.com).
Where to rent medical equipment ?
Noirmoutier Assistance
9 rue du Marais Neuf, 85680 La Guérinière
Contact : 02 51 39 48 48
 
Pharmacie Marine
6 avenue de la Liberté, 85740 L'Epine
Contact : 02 51 39 30 45
 
Public toilets
BARBÂTRE
Chemin de la Barre Raguideau (behind the pharmacy)
Office de Tourisme → only during the summer
Site du Gois → only during the summer
LA GUÉRINIERE
Bois des Eloux → only during the summer
Plage de la Cantine (close to the creperie restaurant) → only during the summer
Place de l'Église
Rue de la Rampe (close to the private elementary school)
Parking de la Court
Port du Bonhomme
 
L'ÉPINE
Aire de camping-cars : 
Maison para-médicale
 
NOIRMOUTIER-EN-L'ÎLE
Plage des Dames
Rue piétonne / mairie
Eglise Saint Philbert
Place de la République
Gare Routière
Chemin de la petite Garanne – l'Herbaudière
Eglise – l'Herbaudière
Port de l'Herbaudière
Plage du Petit Vieil