Accessibility on Noirmoutier Island
AN ISLAND FOR EVERYONE!
In recent years, much work has been done to make the island accessible to everyone. The island's four towns have launched an accessibility plan for their town centres, and the Noirmoutier Tourist Information Office is also involved in the project. Find all the information about accessible accommodation, restaurants and activities in this page.
DISCOVER ESTABLISHMENTS WITH THE NATIONAL TOURISM & DISABILITY LABEL
The State-issued "Tourisme & Handicap" label identifies tourist facilities and attractions that are accessible to people with motor or intellectual disabilities or visual or hearing impairment. There are several establishments on the island that have earned the national label. Other establishments on Noirmoutier Island also have perfectly accessible premises, although they have not received the label. For a list of these, download the document (in french only) about accessible sites (activities, lodging and restaurants) and inquire at the Tourist Information Office for more information.
For  more informations, contact us on +33 (0) 2 51 39 80 71.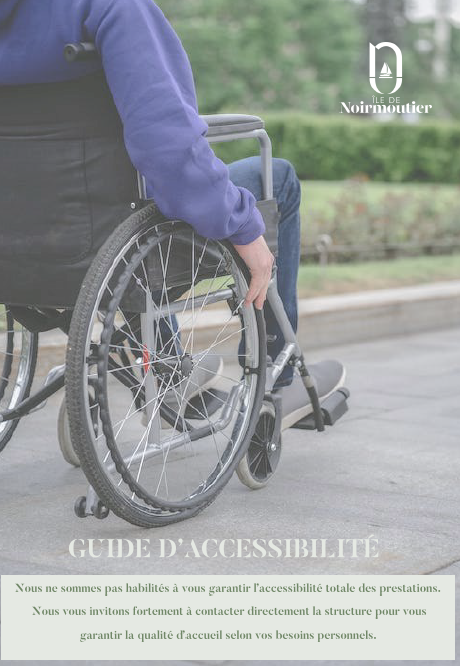 Tiralo plage des Sableaux à Noirmoutier
ENJOY THE BEACHES OF THE ISLAND THANKS TO THE FOLLOWING ACCESSIBILITY EQUIPMENT
The "Tiralo" is a floating wheelchair that can be manoeuvred on the beach and in the water by a responsible third party. Thanks to this person's help and to the respect of basic safety instructions, the disabled passenger, comfortably seated and halfway in the water, will be able to experience the joys of swimming like everyone else! 
Barbâtre, plage de l'Océan : 1 tiralo - booking at the Barbâtre Town Hall - +33 (0)2 51 39 68 58.
Barbâtre, camping des Onchères : 1 tiralo - chemin de la Martinière - Booking +33 (0)2 51 39 81 31.
La Guérinière, plage de la Court : 2 tiralos - rue de la Rampe (old SNSM sea rescue building) - access and launching at avenue de la plage/Cale de l'Atlantique - booking at the Musée des traditions de l'île à la Guérinière - +33 (0)2 51 39 41 39.
Access for people with reduced mobility with anti-slip matting at the Cale de la Rampe at the end of the rue de la Rampe.
L'Epine, plage Saint-Jean, plage du Devin and plage de l'Océan: 1 tiralo - booking at the Capitainerie du Port de Morin - +33 (0)2 51 35 81 26 + Beach access for the disabled with non-slip matting.
Noirmoutier en l'île, plage des Sableaux: 1 tiralo - At the peak season, available to bathers from the lifeguard station, under the supervision of lifeguards during duty hours (from 1 July to 31 August from 1.30 pm to 7 pm) - +33 (0)2 51 54 45 10 + Beach access for the disabled with non-slip matting.
The "Hippocampe" is an all-terrain wheelchair that can only be used to get into the water. It does not float and is reserved for use by children only. 
Available and bookable at the harbour office in Noirmoutier-en-l'île (harbour and mooring service): +33 (0)2 51 26 03 36 or +33 (0)6 27 04 03 91.
VISIT THE NOIRMOUTIER Island IN AN ADAPTED wheelCHAIR "JOËLLETTE" WITH A TRAINED ASSISTANT
Joëlettes: these are all-terrain wheelchairs (equipped with a double wheel located underneath the wheelchair and two stretchers) that enable people with motor disabilities to walk free of charge on all the island's footpaths with a trained volunteer guide. Equipped with armrests, footrests and an adjustable headrest, the joëlettes are stable, comfortable and guarantee the passenger's safety for a relaxing bike ride.

To book a Joëlette and its attendant:  contact the Association Sportive et Culturelle de la Guérinière (ASCG), via either M. Atlé Guy on +33 (0) 6 19 41 68 77 or by e-mail at guy.atle@gmail.com, or Mdm Blandin Monique on +33 (0) 6 30 12 86 17 or by e-mail at mamiemonique85@gmail.com.
Joëlette's with a trained volunteer guide are subject to availability. Contact the association several days in advance.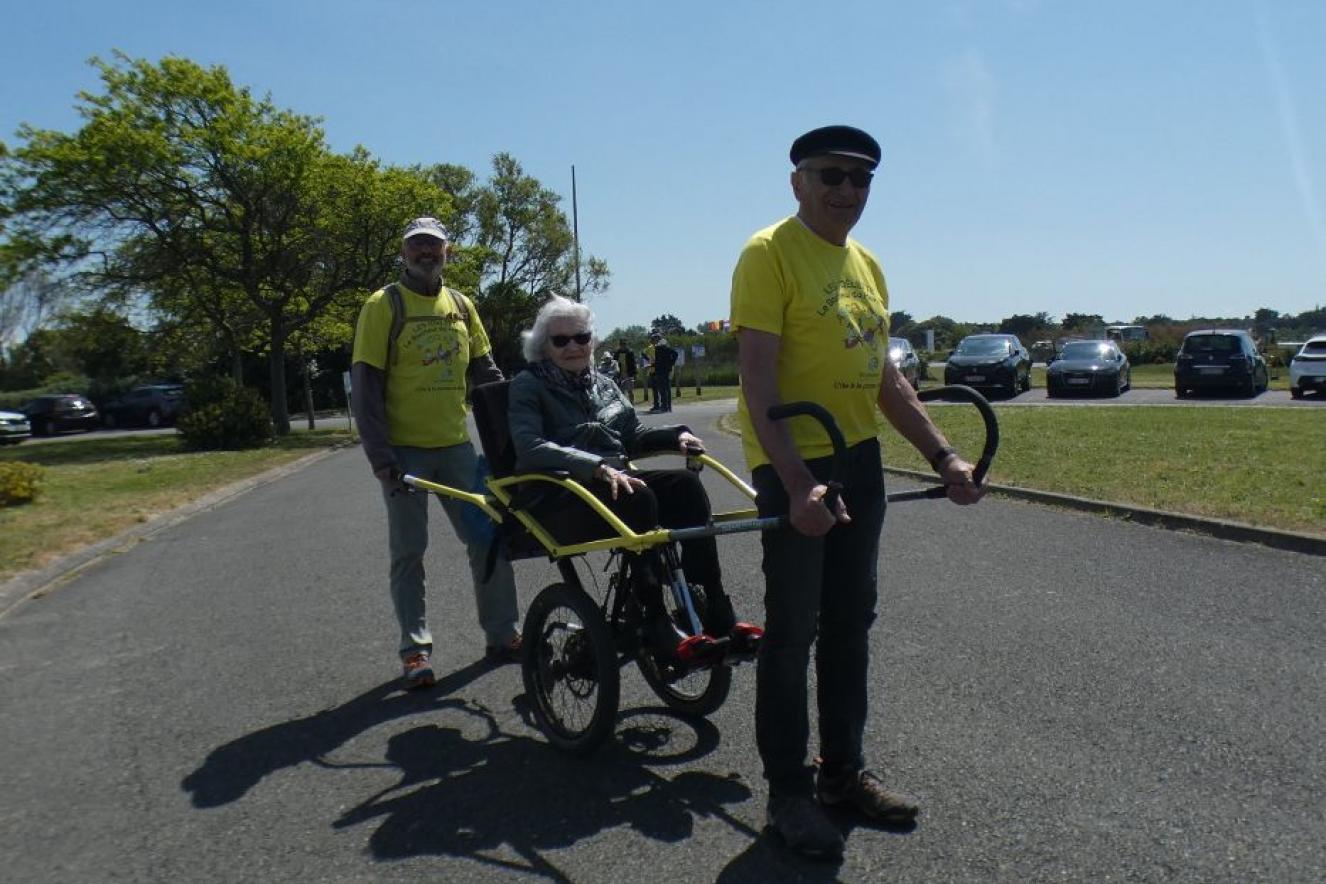 VISIT THE NOIRMOUTIER Island on an adapted bike WITH A TRAINED ASSISTANT
Adapted bikes: adapted bikes for people with motor disabilities. 
To take advantage of a walk accompanied by volunteers from the "Grandir Ensemble Noirmoutier" association, contact Christelle Drapeau several days in advance on +33 (0) 6 75 46 49 34 or by email at grandirensemble.noirmoutier@gmail.com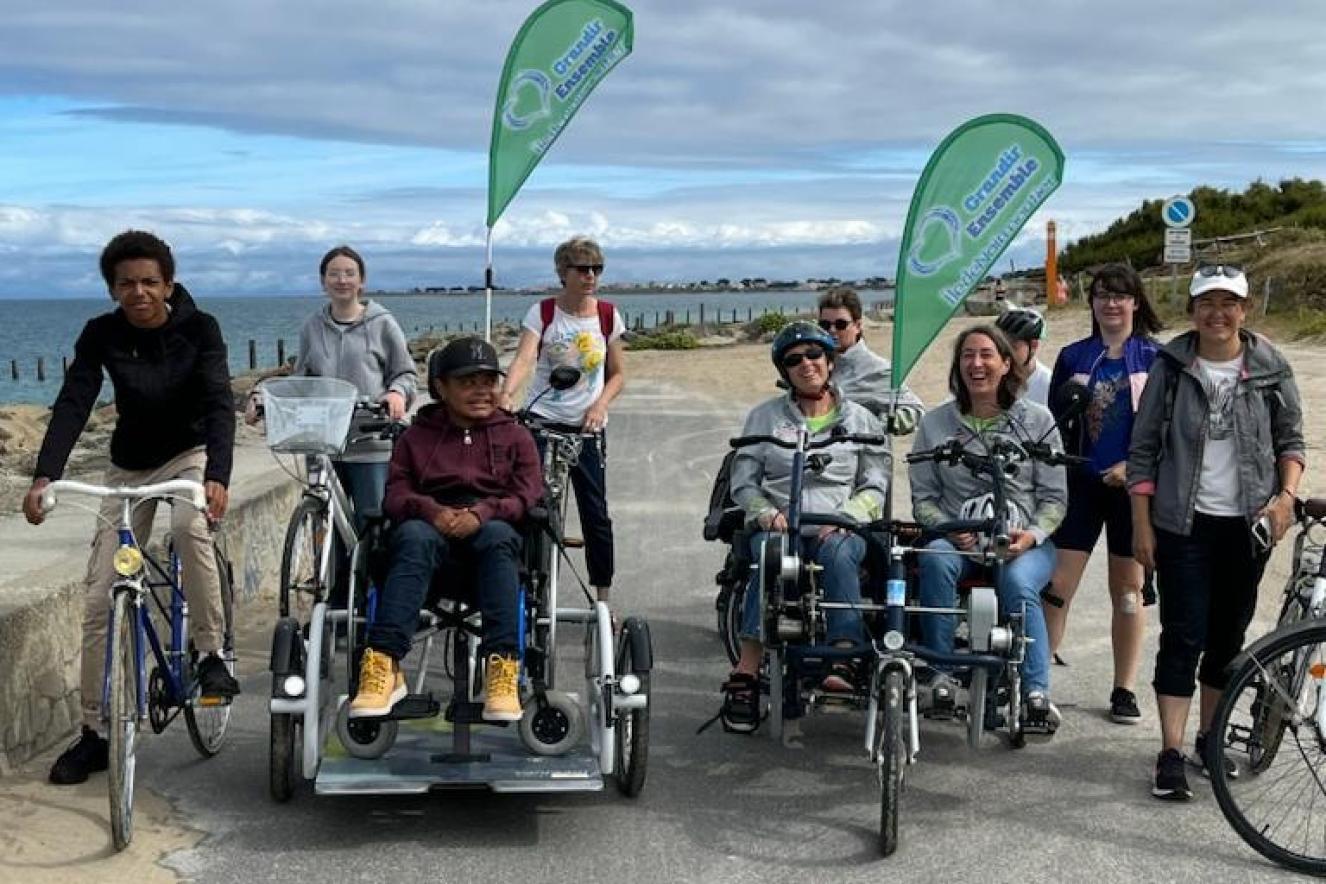 Where to rent medical equipment?
Noirmoutier Assistance
9 rue du Marais Neuf, 85680 La Guérinière
Contact : +33 (0) 2 51 39 48 48
 
Pharmacie Marine
6 avenue de la Liberté, 85740 L'Epine
Contact : +33 (0) 2 51 39 30 45
 
Public toilets
BARBÂTRE
Chemin de la Barre Raguideau (behind the pharmacy)
Passage du Gois → only in the summer
LA GUÉRINIERE
Bois des Eloux (wood) → only in the summer
Plage de la Cantine (close to the creperie restaurant) → only in the summer
Place de l'Église
Rue de la Rampe (close to the private elementary school)
Parking de la Court
Port du Bonhomme (oyster port)
 
L'ÉPINE
Camping car area : Place des Ormeaux (at the entrance of the village)
Maison para-médicale (Para-medical house)
NOIRMOUTIER-EN-L'ÎLE
Plage des Dames (beach)
Rue piétonne (the main street close to the town hall)
Eglise Saint Philbert (church)
Place de la République
Gare Routière (the bus station)
L'Herbaudière
Chemin de la petite Garanne 
Eglise (church) 
Port de l'Herbaudière (port)
Le Vieil
Plage du Petit Vieil (beach)