DIGGING FOR SHELLFISH ON NOIRMOUTIER ISLAND
PULL ON YOUR BOOTS AND GET OUT YOUR NETS!
Noirmoutier's beaches are particularly great for shellfish digging. These are terrific experiences to share with family or friends or just enjoy on your own, as you learn to observe and respect nature.
BEST SPOTS
Plage des Dames beach and Anse Saint-Pierre cove: pink shrimp, cockles, mussels, winkles and clams
Le Vieil and L'Herbaudière: pink shrimp, winkles, clams, crabs and cupped oysters
L'Épine and Pointe du Devin headland: clams, winkles, mussels and pink shrimp
La Guérinière and Pointe de la Loire headland: clams, cupped oysters and crabs
Gois Passage: cockles, winkles and clams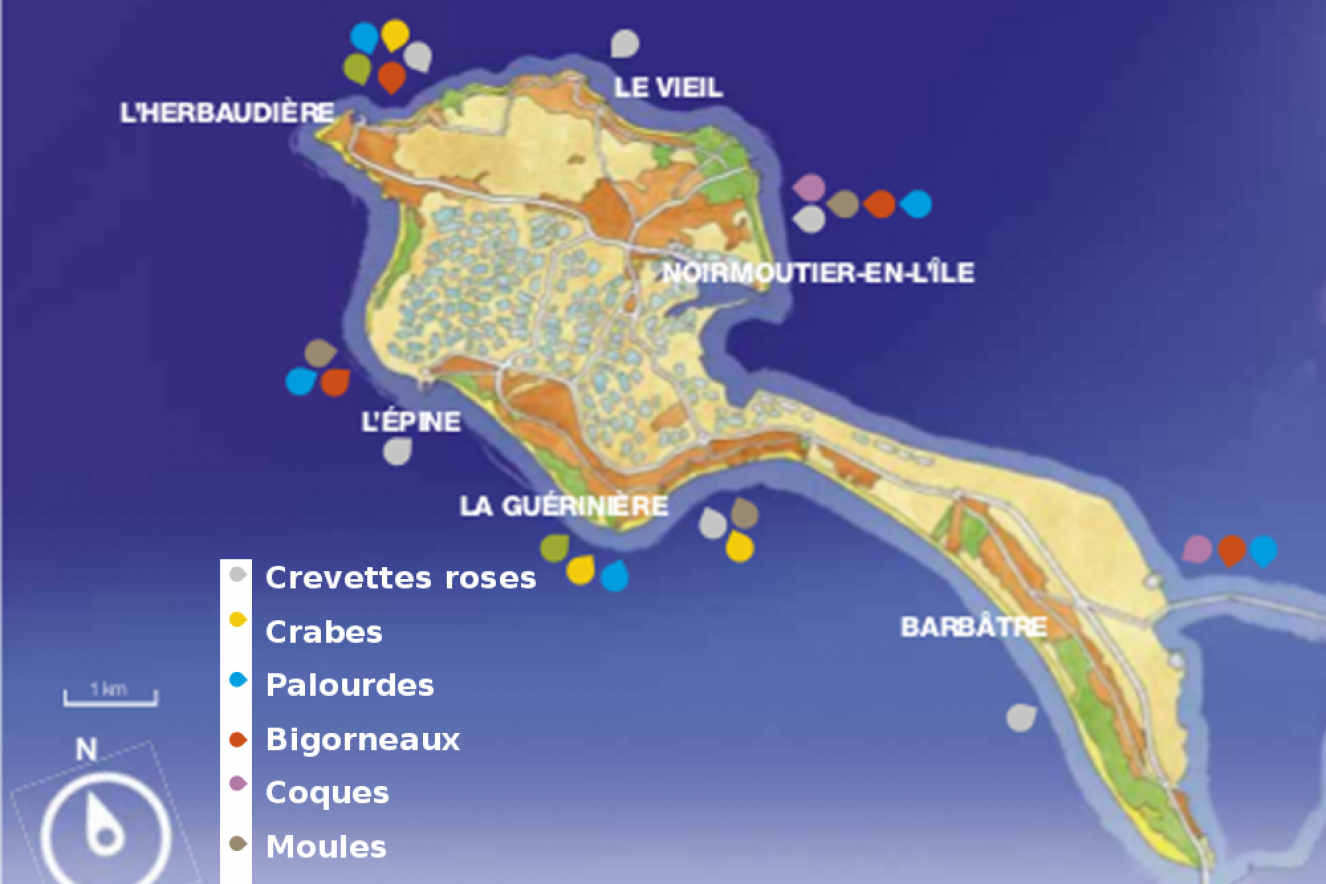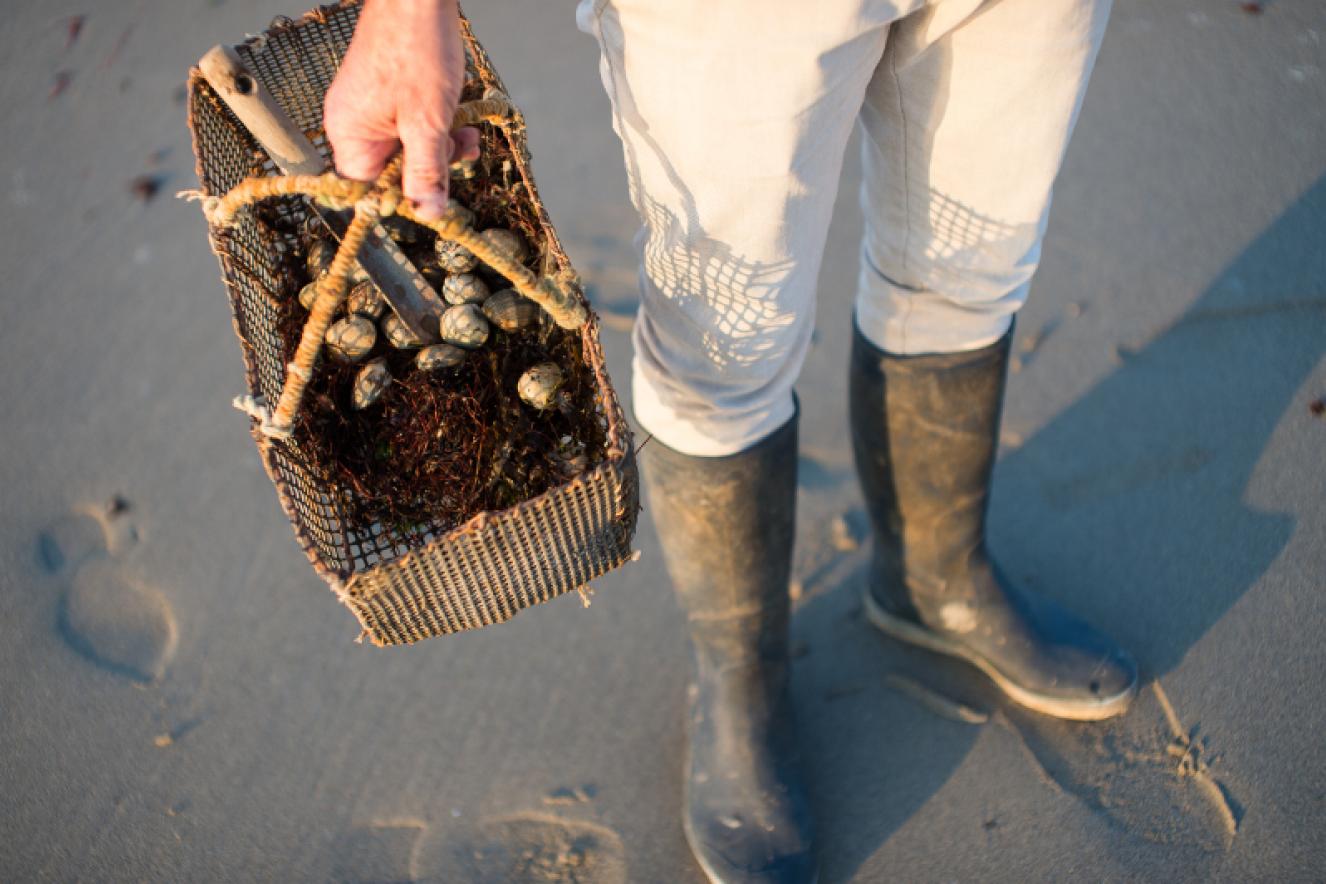 TIPS AND BASIC RULES
Be sure to bring boots or a good pair of shoes and a basket or a pail.
Take the time to check the tide tables.
Only use a three-prong rake and a clam knife as your tools. Any other implements are forbidden.
Get your bearings with landmarks and seamarks so you can find your way back.
Only catch what you are sure you will eat.
Check the minimum shellfish sizes that you can catch, to make sure you aren't harming the environment.
Put any rocks that you moved back in place.
Be patient...
Avoid using plastic bags to hold your catch. It is better to use a wicker or plastic basket which allows the water to drain.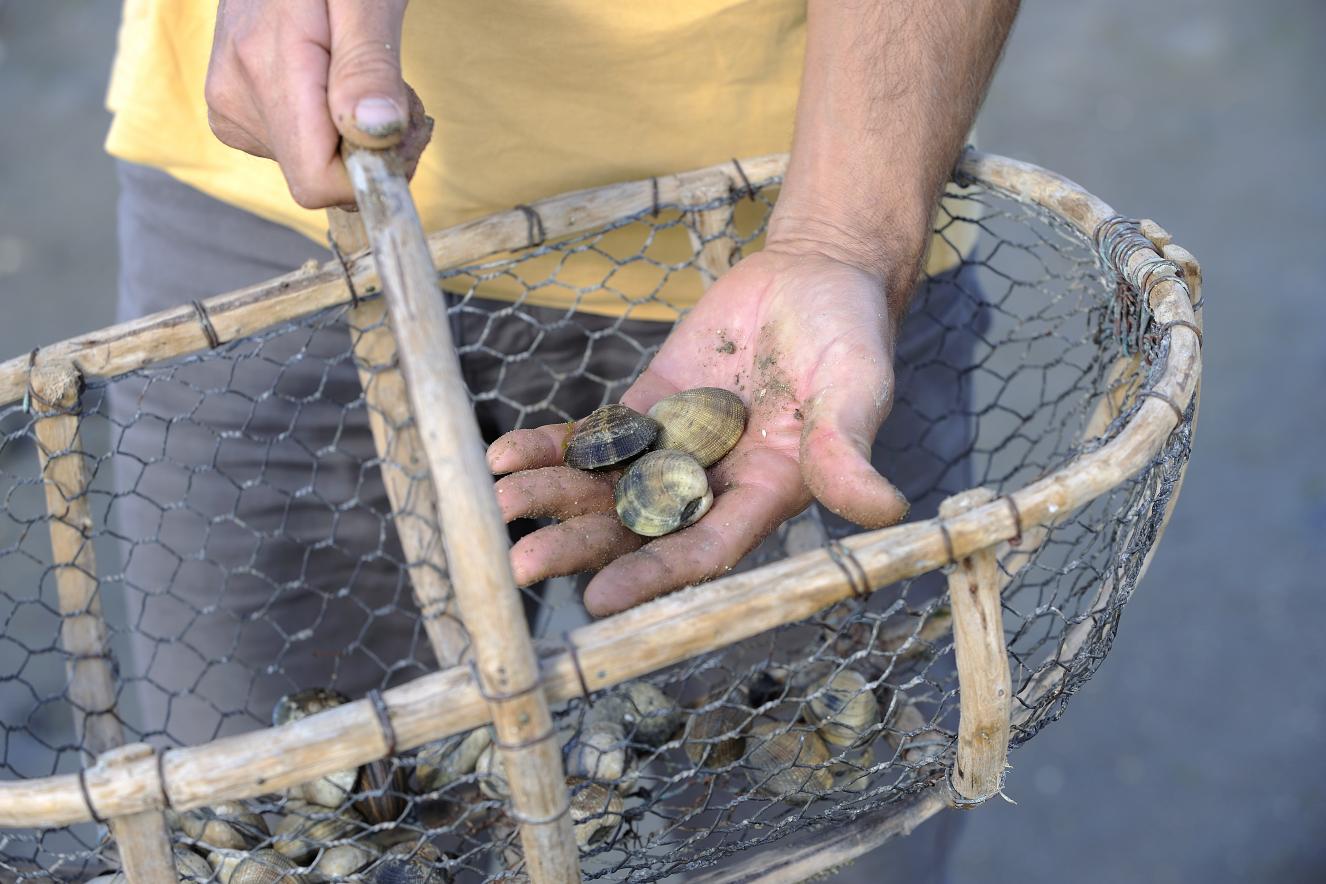 SIZE AND CATCH LIMITS
The marine environment is generous but not inexhaustible, so it is vital that we take care of it to ensure its survival...  
Please adhere to the minimum sizes and maximum catches allowed per person:
Clams: 3.5 cm / 3 kg
Cupped oysters: 5 cm / 5 dozen (up to 5 kg)
Cockles: 2.7 cm / 4 kg
Mussels: 4 cm / 5 kg
Pink shrimp: 5 cm
Grey shrimps : 3 cm
Crabs: 13 cm (common crabs) and 6.5 cm (velvet and sharptooth swimming crabs)
Winkles: 3 kg
You are strictly prohibited from selling your catch.
SPEND THE DAY CATCHING SHELLFISH
To the beat of the spring tides with promising tidal coefficients of around 100, fans of shellfish digging invade these areas. Well in advance, they identify the eagerly awaited day on their tide table calendars. The moon is full. The tide will go very far out, uncovering a virtual terra incognita. On these spring tide days, diggers from all over the Vendée converge on the beaches to fill their baskets. Some of them even come from further afield, as far away as Paris! One of the most popular spots to dig for shellfish on Noirmoutier Island is the section between the Gois and the oyster beds between Beauvoir and Noirmoutier.

There, far from the exposed road, a whole crowd of busy bees in yellow or green raincoats are hard at work, rake or shovel in hand, with a basket or pail placed next to their rubber boots. Leaning over their own images barely reflected in what remains of the water, or searching for the slightest little hole in the rippling sand, the diggers lie in wait for their prey. A simple air bubble and they're off! Kids trying their hand for the first time and less fortunate adults may need to settle for winkles. Once their baskets are full, the smallest catches are thrown back into the ocean in an act of mercy and hope... of finding them grown bigger the next time. On the road home, they imagine the seafood stuffed with garlic butter, eaten raw with a glass of Muscadet or a slice of toast with salted butter, or prepared in an enormous dish of tagliatelle in cream sauce.
Une journée de pêche à pied en famille au Gois - Jean-Sébastien Evrard
GOURMET CORNER
SUGGESTED RECIPE: COOKING WINKLES
Ingredients:
- Winkles
- Laurel and thyme leaves
- Salt and pepper
Cover the winkles with cold water. Add 30 g salt per litre of water (salt level in seawater), at least one teaspoon pepper per litre of water, laurel leaves and springs of thyme. Place over heat. As soon as it reaches a boil, switch off the heat and let sit for 5 minutes. Next, drain the winkles. They will now be easy to eat whole, and their opercula will also be very easy to remove.

TIPS FOR ENJOYING YOUR CATCH- Don't pick up burrowing shellfish (soft and hard shell clams, cockles, etc.) on top of the sand because they may be ill.
- Wash your catch in seawater.
- Eat your shellfish within 24 hours.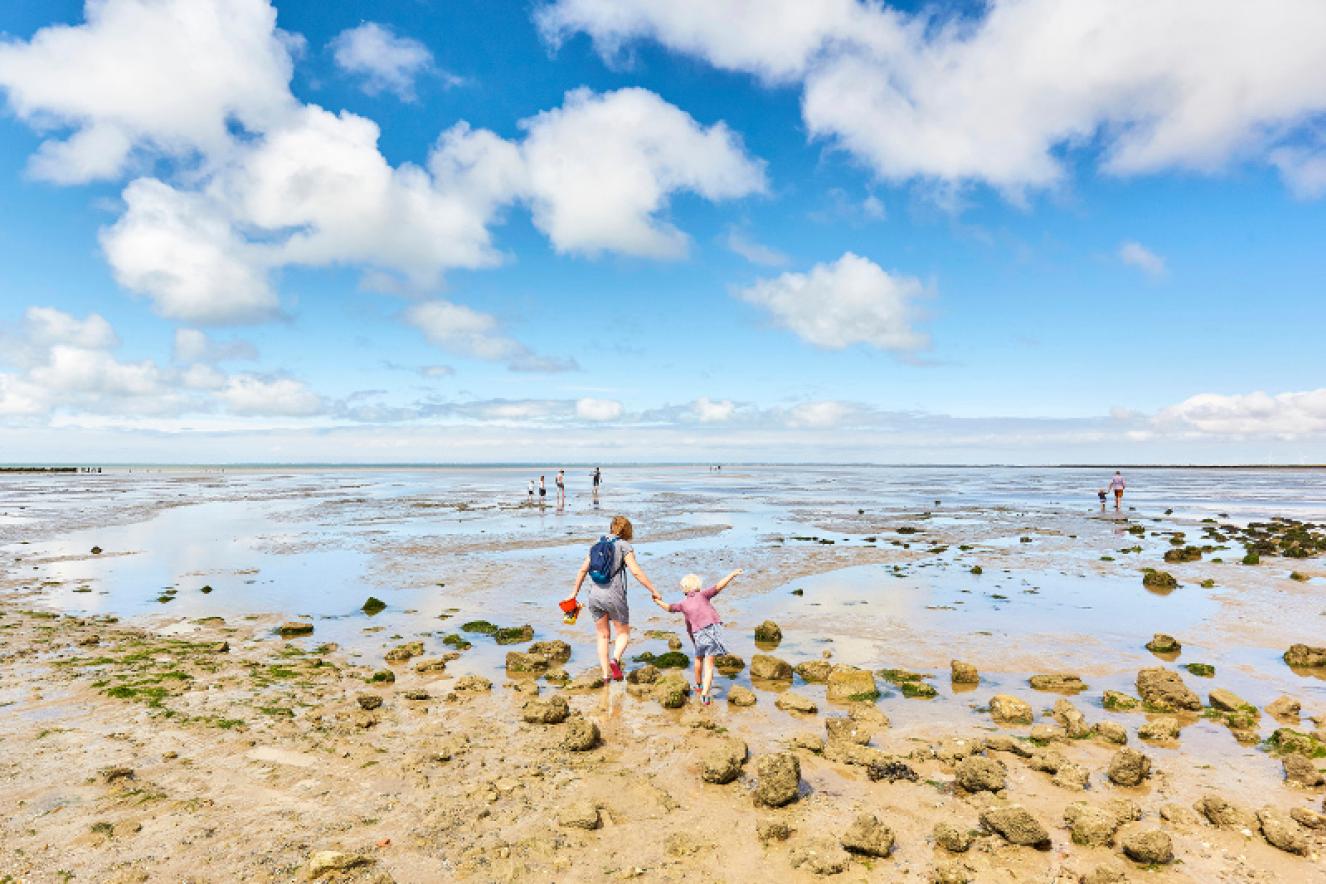 Pêche à pied - Jean-Sébastien Evrard
PAUL, AGE 8: "I GO FISHING WITH MY DAD!"
"I go to Noirmoutier Island every weekend from April to November. What I like best is going fishing with my dad. At the Plage des Dames, there's a sand bank and a big stone a little further. That's the spot. One day, I was with Dad and some friends. We brought rakes, nets and baskets with us. I caught 50 shrimps! We ate them before dinner. My dad cooked them."